Editorial vs. Advertising - What's the Difference?
Finding the perfect photo whether for print or online requires thoughtful deliberation over each image's attributes. But there is one fundamental distinction that needs to be addressed before thinking about which photo has the better lighting or most attractive model. Perhaps the most important way to categorize content is to determine whether it's editorial or a piece of advertising.
But just because the categories appear straightforward, doesn't mean it's always easy to understand which you fall under, and how that impacts your image usage. Missteps in image licensing have launched plenty of legal actions when an unsuspecting person suddenly finds their face in an ad for a company or a cause they don't agree with.
To start breaking down this complex topic, let's start with the basics: What is the difference between editorial and advertising content?
Stop the Presses!
Editorial content typically falls into what most people would consider "news." Images that appear in editorial content are almost always there to help illustrate the topic of the story. For example, articles about celebrities often use stock photos of those famous faces to help connect the reader with the person or people they're writing about. But editorial use isn't limited to newspapers and magazines. Non-fiction books, documentaries, and other newsworthy publications all fall under editorial use guidelines. Likewise, editorial images can also be used for educational purposes, like in textbooks or presentations. The key differentiator here is that editorial images are used to lend credibility to the story, and they are not being used to sell anything.
The core difference in commercial photos is that the people shown in the image have signed a release form that legally allows their likeness to be shown in a commercial context...
Even with these narrow editorial standards, there's still leeway for creativity in photo selection. Let's say a publication is writing a review of the new Nicole Kidman movie Queen of the Desert. To accompany the review, the publication could use a still photo from the movie. But they also have the option to use a standalone photo of Kidman from a recent film festival or press event, like the one below.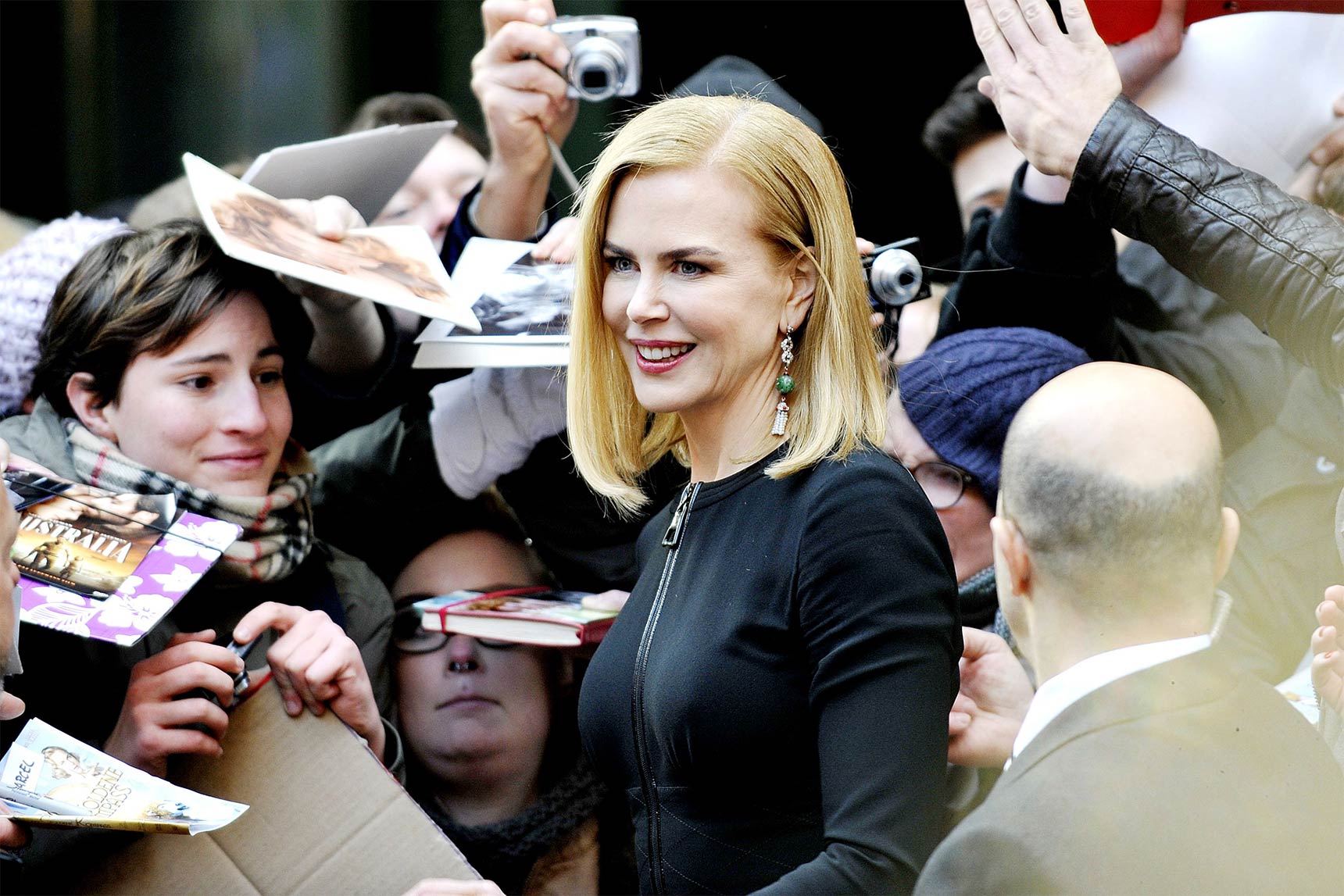 Even though this image doesn't show the actual movie being reviewed, it serves to illustrate the lead actress, and connects readers with the names in the article. Because of this, it still meets editorial-use criteria.
Living in a Material World
Understanding what counts as advertising or commercial content is typically easiest when phrased as "anything that's not editorial." The commercial realm covers everything that is trying to promote, sell, or otherwise market something. So it's obvious that print ads, infomercials, and sales brochures count as commercial use. But commercial use goes far beyond just advertisements. Does your company have a blog that helps promote your products and services? That's commercial. Creating a cover photo for your company's Facebook page? That's commercial, too. And these rules apply equally whether your business operates as a for-profit or nonprofit.
The core difference in commercial photos is that the people shown in the image have signed a release form that legally allows their likeness to be shown in a commercial context, unlike celebrities or passersby being photographed (sometimes without their knowledge) at public events.
Once you've identified whether your content is editorial or commercial, Shutterstock makes it easy to find the photos that meet your needs. Search by topic or subject to find the image you need. Then, use the "Refine Your Search" link to select whether you want to see Editorial or Non-Editorial (Commercial) images. This ensures you'll find a photo with the proper licensing available for your usage.
Need help finding editorial or commercial images? Shutterstock Premier offers personalized research assistance to save your team time and effort.